There are many different menus in Lost Admiral Returns. The ones you see the most are used during battles to move your units, fight the enemy, and manage your ships.
The best way to learn about menus in LAR is to use the Help and Advice screens built right into those menus inside the game. Simply go to the menu in question, then click on the "Hlp" or "Adv" buttons at the bottom of the screen for thorough descriptions of all actions for that menu.
Certain game menus have extended information available on them, and that part of the LAR experience. Use the links bar on the left to select a game menu you are most interested in right now.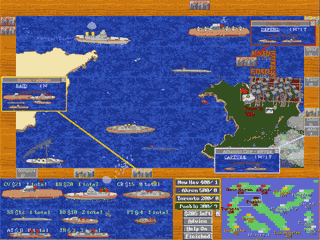 Questions about a menu not covered here? Suggestions? Email thurston@fogstone.com with your feedback, questions, and suggestions!

This manual is broken up into sections explaining how to play the game, how the program menus work, and other details of interest to players of Lost Admiral Returns. Start at the top to find the different sections.
If you have questions, please visit our forum and look for help there.
If you find an error or omission in this manual, please email us at support@fogstone.com