The officer menu shows a summary of all the different types of maps you have fought on. Each map will have colored patches on it indicating what levels of victory you have achieved for that specific map. Defeat higher AI levels on a given map to earn better colored patches for that map.
Your Officer's Rank and Coloring is based on a mix of of how many different maps you have fought on, and your best victory on each map. The more maps you have fought on, the higher your Rank. The better your victories, the better the coloring of your rank. A fuzzy weighing formula is used to decide the exact shade of color and rank you have earned, so move your mouse pointer over the name of your rank to see a breakdown of how your rank was computed.
The four tutorials in LAR contribute substantially to your overall coloring and Rank. So be sure to complete these tutorials first to boost your rank quickly while learning about LAR.
You can also view other officers from this menu, create new officer namesakes, delete them or otherwise manager your officers.
You can learn more about your past battles for any map by left clicking on the symbol for that map. You will first view the Internet High Scores page for the map where you can go online and view everyone's scores for this map. After that screen, several more screens will be displayed surmising your past performance for this map.
You can also quick start battles by right clicking on a map symbol. This will immediately start a battle for that map. Use this quick start option to go improve your rank by fighting on maps who's symbols indicate you have not yet fought that type of battle, or who's best colored patch is weaker than you would like.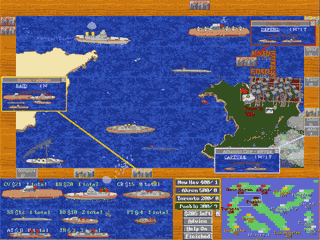 Questions? Suggestions? Email thurston@fogstone.com with your feedback, questions, and suggestions!

This manual is broken up into sections explaining how to play the game, how the program menus work, and other details of interest to players of Lost Admiral Returns. Start at the top to find the different sections.
If you have questions, please visit our forum and look for help there.
If you find an error or omission in this manual, please email us at support@fogstone.com