Looking for instant action in Lost Admiral Returns?
In a hurry and looking for a quick break? Play one of the Instant Battles in Lost Admiral Returns!
Each Instant Battle jumps into the middle of an intense fight right from the start. No need to build an initial fleet, or plan out how to conquer the map. Just dive in and do your best with the warships given to you. Different themes drive each Instant Battle, such as Battleships vs Cruisers, Submarine ambushes, and more.
Instant Battles to choose from:

Battle of Jutland - Relive the largest clash of dreadnaughts in naval history. Cruisers and Battleships dominate this battle. Which kind of force is better in a toe to toe fight?

Battle of the North Atlantic: Wolfpack - Submarines ambush a convoy of transports and escorting warships just before they reach safe harbors.
Keep your eyes open for more new Instant Battles in LAR.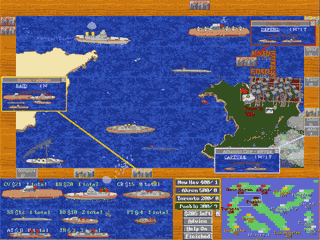 Questions? Suggestions? Email thurston@fogstone.com with your feedback, questions, and suggestions!

This manual is broken up into sections explaining how to play the game, how the program menus work, and other details of interest to players of Lost Admiral Returns. Start at the top to find the different sections.
If you have questions, please visit our forum and look for help there.
If you find an error or omission in this manual, please email us at support@fogstone.com