Lost Admiral Returns comes with the "Fogstone Updater" program which will let you regularly update LAR with all the latest new features and updates for the game.
No hassle of searching websites for patch files, or searching for news about new versions. LAR will check for any news and feature updates every time you go online with the game, and will tell you when an update is available.
Additionally, LAR makes sure that all players are using the same rules and features for fairness in all competitions, high score postings, etc by requiring that the updater be run once every 10-20 days or so.
Updates to download are usually 1-3 MB in size and only take a few minutes even on dial-up connections.
Automatically hear about, find, and use updates to LAR
Updates only take a few minutes to get.
Regular stream of updates with new features, twists, etc.
So keep your eyes open and look forward to a regular stream of improvements and new stuff for LAR via the updater and the Internet!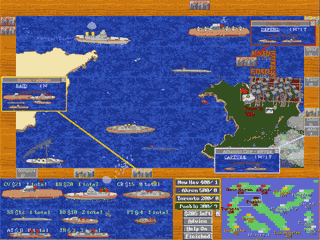 Questions? Suggestions? Email thurston@fogstone.com with your feedback, questions, and suggestions!

This manual is broken up into sections explaining how to play the game, how the program menus work, and other details of interest to players of Lost Admiral Returns. Start at the top to find the different sections.
If you have questions, please visit our forum and look for help there.
If you find an error or omission in this manual, please email us at support@fogstone.com